One word, onward.
This one is for you and for me, and I stole it from Brigid. Or maybe I should say I was inspired by Brigid.
In 2013, I got back into a good exercise routine and thus, my skinny jeans. I intend to continue this trend. Not because I think I'm fat (I'm not), but because I really like feeling stronger and being able to do more. Looking pretty great in the new skort I bought* myself is just a side benefit (SIZE 2?!?! Huh?).
2013 wasn't kind to what little savings I've got, but I was able to be a part of doing some great things for people that could really use it. Remember Sam? And Kat? And the support for Erin? Watching our little community of misfits and miscreants come together to take care of one of our own is a really beautiful thing. And we didn't even need any bureaucrats to make sure it happened.
I built half a rifle. Hope to build the other half in 2014. Hear that, Aero-Precision? Brownells? Yes, I'll be telling you all about it in detail. If you'd like to just go ahead and play along at home, here's the list so far
1. Aero-Precision Lower in flat dark earth
2. This Magpul stock. Which is awesome and heavy, BTW (FYI-you need the rifle buffer tube without the A2 spacer)
3. JARD trigger (not quite drop in, but not too complicated)
4. And all of these tools. They are awesome as well. I used them all, and they made the job so very much easier. Not one spring was launched
Since I've only built the lower, I slapped the upper from my S&W on it and headed out to the field. I am happy to report that it works exactly as it should. I'm only disappointed that it didn't put meat in my freezer, but that's not the rifle's fault. I did take out a moving target at ~150yrds over iron sights, so there's that. This will be the rifle that blogging built as everything listed above was provided for review. (psst! That's a disclaimer)
I taught myself to crochet using internet tutorials. So far, I've made boot spats, an elf hat that fits the critters, 10 elf hats for mason jars as co-worker gifts (I put candy in the jars), A festive collar for a cat, a hat for Michael out of awesome yarn (Alpaca silk blend), and a head-band/earwarmer thing for me out of the same awesome yarn.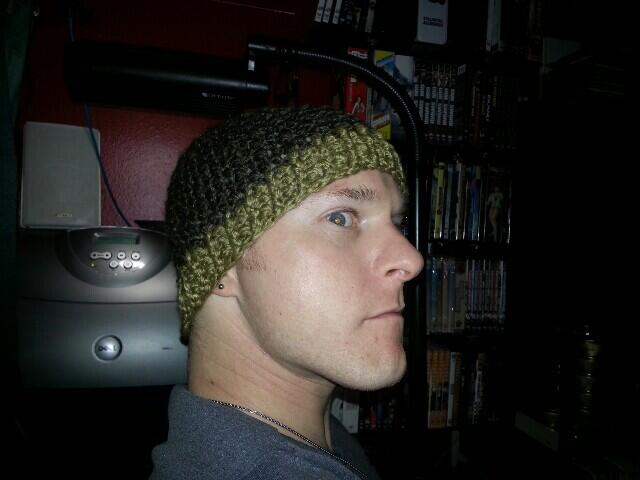 I didn't really set out to learn to crochet. I found cool yarn and looked up knitting tutorials. Found one I liked and asked my grandmother if she had knitting needles. She said that she did and that she'd send them home with me. She's also been on a lot of pain meds lately so it was only a small surprise when the package she left contained crochet hooks instead. Oh well. I was planning to learn a new skill anyway. And here is a terrible cell phone pic of my first project
So for 2014, I resolve to keep going. Onward.
You? You just keep being awesome.
*$0.88 at the local thrift store. I splurged.